Stained glass is created by choosing, restoring, and redeeming broken pieces, which are then purposefully put together to form a work of beauty that both illuminates with light and tells a story that blesses others. We are those broken pieces that God chooses to redeem and create a beautiful picture that testifies to the transformational power of God that makes old things new reflecting His glory and beauty through our lives.
You were MADE FOR MORE than you can conceive. Your life can display the power and beauty of the Lord, when you allow His light to shine through your life to others. Freedom is not for you alone. You are saved, healed, delivered, and set free FOR the display of God's splendor and beauty. The Holy Spirit will lead you in this journey, and as you allow the light of Jesus to touch your broken places and make you whole, your life of imperfection and brokenness can become an opportunity to tell the magnificent story of God's transformative power and redemptive love. You are a divine masterpiece God desires to display.

AFTER EACH WEEK'S MESSAGE, WORK THROUGH THE FOLLOWING SESSIONS
INTRODUCTION + SESSION 1 (Sept 11-Sept 17) – Deception vs. Truth
SESSION 2 (Sept 18-Sept 24) – True Character of Father God
SESSION 3 (Sept 25-Oct 1) – Pulling Down My Idols
SESSION 4 (Oct 2-Oct 8) – Heart Issues: Pride and Rebellion
SESSION 5 (Oct 9-Oct 15) – Truth vs. Counterfeit
SESSION 6 (Oct 16-Oct 22) – Inward and Outward Sins of the Will
SESSION 7 (Oct 23-Oct 29) – Freedom from Fear
SESSION 8 (Oct 30-Nov 5) – Forgiveness: Dealing with the Hurt and Trauma of Your Life
SESSION 9 (Nov 6-Nov12) - Breaking Unhealthy Connections: Resolving Sexual Sin and Soul Ties
SESSION 10 (Nov 13-Nov19) - Cursing vs. Blessing: Breaking Generational Sin and Iniquity
APPENDIX - MAINTAINING YOUR FREEDOM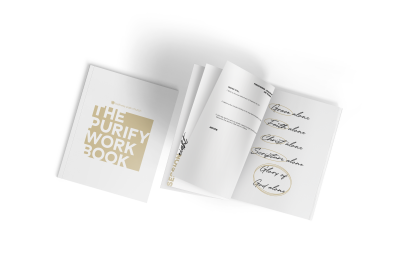 Purify Workbooks Available
Workbooks will be $5 at the resource table in our foyers at both campuses beginning August 24 & 27.
Download Your Digital Copy
In-person Service Times
+Thursday | 6:30pm | North Campus
Sunday | 9:00am & 10:45am | South Campus
Sunday | 9:15am & 11:00am | North Campus
Online Service Options
Sunday | 9:00am &10:45am CST
To catch up on previous messages from this series, watch here!

We desire for every person to be a part of a group (in-person or online) for our upcoming fall series, Made for More. This ten-week series will kickoff September 7 & 10, and will focus on the freedom that Jesus accessed for us on the cross.
It is our desire to encourage and assist people of all ages to find victory over deception that leads to poor choices, strongholds that can destroy life, unforgiveness, and many other areas where we struggle. We will engage the Lord and discover that He has the power to transform our lives and bring about the real changes that we desire. Because change rarely occurs in isolation, we have found that community (life groups) creates a smaller, safer environment for real conversation, worship, and real ministry.
Get connected today and join us in this freedom journey!
Please note: groups are being added daily. If you have not found a group that fits your schedule, check back or click here!
aLSO, IF YOU DO NOT SEE AN ONLINE GROUP LISTED THAT FITS YOUR SCHEDULE, PLEASE EMAIL OUR ONLINE CAMPUS PASTOR, , FOR ASSISTANCE.

Parents here are some great resources to jump into this series with your kids!
Weekly Take Home Sheet
Use this Take Home Sheet to see what your kids are learning each week.
New Take Home sheets will be added each week of the series.
Key Verse
Encourage your kids to memorize the weekly memory verse.

Groups is where we have the opportunity to build meaningful relationship, while discussing concepts from each week's message. Below you will find the resources needed to make your group experience exceptional. God wants to move powerfully in each group so that freedom, healing, and transformation in our lives is tangibly seen.
Group Discussion Video
Group Discussion Questions