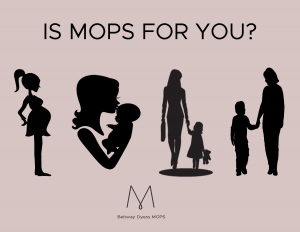 WHAT IS MOPS?
MOPS stands for Mothers of preschoolers. Our groups are communities that strive to meet the needs of every mom with children from expecting (either by pregnancy, foster care, or adoption) through kindergarten for her youngest child. We recognize that urban, suburban, and rural moms, stay-at-home and working moms, teen, single, and married moms all share a similar desire to be the very best moms they can be. MOPS groups can help! Visit http://www.mops.org/about to learn more.
WHAT CAN I EXPECT FROM A MOPS MEETING?
A chance to socialize with other moms and to make new friends
A speaker and/or creative activity
Rejuvenation and support
Yummy snacks
A judgment free zone with other moms who care about you
Prayer for anything that ails you! And If you need some extra care and attention, our mentors are always available for private prayer.
Loving Children's Ministry to care for your children (limited spots available. Please RSVP.)
WHAT WILL MY CHILDREN BE DOING WHILE I'M IN THE MEETING?
Your children will be cared for by our wonderful Beltway Children's Ministry. Young babies who need to be close to mom are welcome to stay with you during the meeting. Our sweet mentors love to hold and rock your babies when you need a break!
HOW MUCH DOES IT COST?
Beltway MOPS members will pay $5 per meeting as organization dues to support our general budget. There is also a MOPS International membership fee of about $32. This gets you access to some great resources:
Access to all Digital Series by MOPS International
Comeback Tour Digital Workbook
Access to Mama Meetups - meaningful online communities for moms
Quarterly print magazine subscription
Access to local, in-person MOPS groups
Bi-monthly encouraging texts
Monthly Virtual Prayer Gathering
Tuition discount up to 30% at Colorado Christian University
WHAT DO I DO WHEN I GET THERE?
You can drop off your children in their classroom in Children's Ministry any time after 6:15pm. Check in and get a label for you and your children. One of our leaders will be available to help you find classrooms for your children. Then come down to the Chapel for a fantastic brunch and meeting. Registration begins at 6:15and announcements will begin promptly at 6:30. New to Beltway Park? Look for someone in a MOPS shirt or name tag. We'll be happy to show you around!
WHAT IF I AM NOT A MEMBER OF BELTWAY PARK?
You do not have to be a member of Beltway Park to join Beltway/Dyess MOPS. Our moms come from churches all over town. You do not have to be a certain denomination or even a "church go-er" to attend. You will be welcomed, accepted, and inspired to reach your full potential and recognize your influence within your family and the world!